Warehousing
Gam Bakker's warehouses are located in prime logistics locations, which enables us to optimize the logistical processes. With 30.000 square meters of warehouse, we can offer solutions for every physical and digital challenge of our customers.
Our warehouses are custom made for specific product groups. For example, we offer dry-, refrigerated- and conditioned storage. Storing food products is our specialty and our staff is trained to handle these products in the right way. At the moment we cool the products down to 8 degrees Celsius and control the humidity, just like in our trucks, at a constant level, resulting in an optimal condition of the products.
Thanks to our facilities and our trained staff, we can provide a perfect service. This service is supported by our digital solutions that provide you with all the conveniences. We provide customized (KPI) reports, but also more advanced solutions such as new on-demand strategies that we support with Machine Learning and Robotic Process Automation (RPA).

Locations
Agriport
The Agriport in Middenmeer is a business park located on the A7. The connection with Amsterdam and the head of North Holland is excellent. Our location is situated in the center of our specialty as a transporter, namely large-scale greenhouse horticulture and agribusiness.

Key figures:

Ambient, conditioned and humidity controlled
7.250 square meters warehouse
3.500 square meters conditioned
1.250 m2 humidity controlled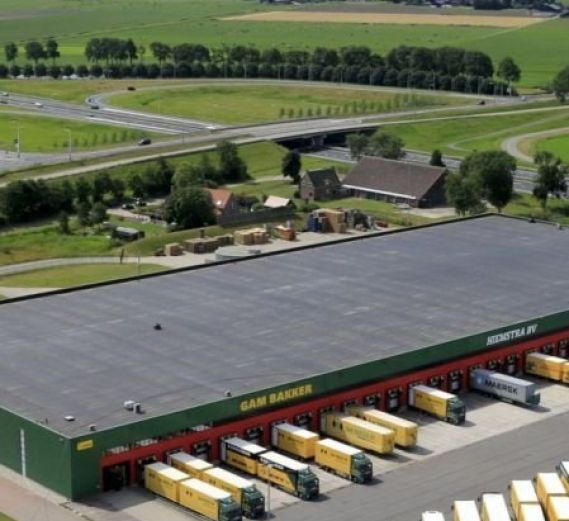 Hoogtij
Hoogtij business park is located on the North Sea Canal. The location of our warehouses, behind a container terminal, makes it a top logistics location. The distance from the terminal to the warehouse is minimal, so we realize a very efficient, flexible and sustainable logistics operation.

Key figures:

Ambient and conditioned
Total pallet places: 48.000
Total pallet places conditioned: 12.000
Total square meters VAL space: 1.200